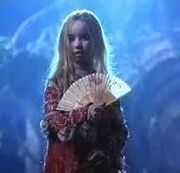 Anna is known for a long time as Anna,
the Toothless because she's the only
vampire in the family who doesn't have
vampire teeth and therefore doesn't drink
blood (she drinks milk, instead). After she
gets her teeth she is renamed Anna, the
Courageous.
Anna would much rather be a human than
a vampire. She doesn't like the clothing,
the lifestyle or the fact that she can't date
Tony! However, after Tony uses the Vampire's Stone she and the entire vampire race turn into humans, never to be believed in again.
NOTABLE ACTS:
She once wrote a poem to Tony but was interrupted by Rudolph finding Elizabeth's Tomb!
She gave Tony the dead rat which was used to trick Rookery upon the find of the Stone Of Attamon.
Anna had been notorious for saying romantic comments to Tony but being largely ignored.
She was the only daughter of Count Frederick and Miss Freda.
She (like her family) witnessed Von falling to the sea after Scottish Priests invaded the vampire gathering in 1700.